The Gift of Learning: Proven New Methods for Correcting ADD, Math & Handwriting Problems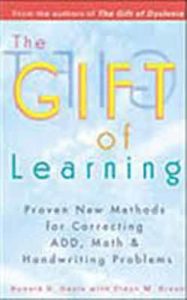 By Ronald D. Davis with Eldon M. Braun
In this new book, Ron Davis goes beyond the correction of dyslexia to describe how to correct ADD, and problems with math and handwriting. Parents and teachers who have been using the Davis Dyslexia Correction techniques will be delighted to discover how to resolve additional learning disabilities.
Order here
Strong-Willed Child or dreamer?
By Dr. Dana Scott Spears & Dr. Ron L. Braund
In Strong-Willed Child or dreamer?, Dr. Braund and Dr. Spears explain the difference between a child who is simply strong-willed, and one who is a "dreamer" (principle-oriented, highly creative, sensitive to a fault, and frustrated by a world that fails to live up to the ideal). This book will help you understand these challenging children and help you learn to teach or parent them so they will thrive.
Order here
Autism and the Seeds of Change

By Abigail Marshall and Ronald D. Davis
This wonderful book is a must-read for anyone looking for a fresh approach to the understanding and treatment of autism. It is not a how-to guide, but rather a guide to understanding what the Davis Autism Approach® Program is all about. Read a review by Dr. Cathy Dodge Smith.
Order here